Are You Up For The Challenge?
Submitted by dan on Fri, 07/31/2009 - 9:58am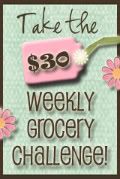 Kathy W. of Danville has a challenge. It's the $30 Weekly Grocery Challenge! Kathy has set a goal for herself and her family of three to spend no more than $30 per week on groceries, baby food, snacks, cleaning supplies and personal items. Sound impossible? She's done it for more than seven months now! Visit her website and just take a look at some of the incredible deals she's been finding. She only spent $16.72 this week! She goes over the basics here with an article titled How I Grocery Shop.
Why don't you take 2-3 weeks to give Kathy's challenge a try? You might be surprised at how easy it is to save lots of money over time with just a little effort.