budgeting
Submitted by dan on Mon, 03/29/2010 - 5:14pm
A layoff or job loss is a difficult experience for anyone, no matter how prepared you may have been. Many Piedmont Credit Union members have experienced some type of short time or layoff over the last few years. There is a good chance that you know at least one person who has involuntarily lost their job temporarily or perhaps permanently. Here is a list of 18 ideas that will hopefully be a help for those facing a reduction of income. ... keep reading...
Submitted by dan on Fri, 07/31/2009 - 9:58am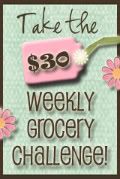 Kathy W. of Danville has a challenge. It's the $30 Weekly Grocery Challenge! Kathy has set a goal for herself and her family of three to spend no more than $30 per week on groceries, baby food, snacks, cleaning supplies and personal items. Sound impossible? She's done it for more than seven months now! ... keep reading...